We're with you all the way
We all need security. It's a wonderful feeling when you know that your car is safe and properly cared for by the best professionals. At Toyota we're taking warranty to a whole new level.
Toyota Warranty is a revolutionary service giving Toyota owners up to 10 years Warranty on a new car or in the case of second hand Toyota cars, up until when the car is 10 years old. Relax and focus on what matters most.
Every new Toyota and Lexus
What's wonderful is that all new Toyota and Lexus models are covered by up to 10 years' Warranty, subject to a service renewed every year.
Every new Toyota and Lexus comes with a 5 year Manufacturer's Warranty followed by a 12 months / 15,000 km additional warranty, with every qualifying service until your car is 10 years / 160,000km old. (T&Cs apply)
Used Toyota – Local, Japan and UK imports
Whether you own a locally sold Toyota Yaris Hybrid, a Toyota Vitz imported from Japan or an Auris from the UK, head over to our dealership to discuss how to activate Toyota Warranty for your vehicle.
If your vehicle is under 10 years old / 160,000km you can get the warranty provided the original manufacturer warranty is expired. This will be followed by an additional 12 months / 15,000km warranty with every qualifying service.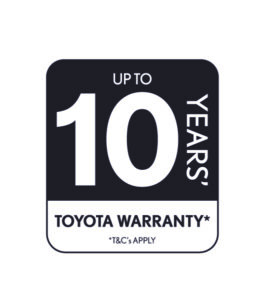 Is your car eligible for a Toyota Warranty?
All eligible Toyota models coming in for a periodic service at Michael Debono Ltd., can qualify for 1 year / 15,000km Toyota Warranty up to the car's 10th year of age / 160,000km.
Eligibility criteria:
Your car must be over 2 years old or above 85,000km
Vehicle is less than 10 years old and below 160,000km
Vehicle must be serviced at Michael Debono Ltd. and pass the relative Health Check

EXTRA PEACE OF MIND WITH EVERY SERVICE
Get a Toyota Warranty until your car is 10 years old / 160,000km
Don't own a Toyota yet?
Still not convinced after reading about our Toyota Warranty service? Buying a Toyota has never been more appealing:
94% of customers stay loyal to Hybrid… Why? With over 25 years' experience in electrification, Toyota offers class-leading economy, emissions, and a fun drive!
Toyota is Malta's No1. trusted brand, with reliable Hybrid electric cars that deliver fun journeys with up to 70% of their time in emissions-free electric mode – without the need for charging! Explore how here.
Toyota's Hybrid Battery Warranty is now extended to 15 years!
Talk to a Toyota Representative or Schedule a Service
Toyota Warranty